Most users will know Intel from manufacturing processors for home computing, gaming, etc., but the company makes many more products. Among this range of products we find the Intel Killer chips, some controllers for flexible network environments optimized for gaming.
What is Intel Killer?
They are a series of controller chips for network communications specially optimized for gaming. Intel Killer chips are developed with the mission of reducing latency and lag in network communications. Its most basic function in gaming environments is to prioritize games over other applications that can run on the system.
The range of Intel Killer controllers is divided into solutions for Ethernet communication and wireless communication (WiFi). Both solutions focus on optimizing communication with the internet (whether it is access to the web or game servers), giving priority to certain types of data transfers.
Intel Killer Ethernet solutions are known for supporting ultra-fast data transfer speeds of up to 2.5Gbps. While the Intel Killer Wireless solutions are designed to be able to play without the need for cables but with very low latencies through the WiFi 6 and WiFi 6E standards. But in both cases, always focusing on gaming.
Intel buys Rivet Networks, makers of Killer controllers
Rivet Network s is the company that was in charge of designing and manufacturing the Killer NICs (Network Interface Card) . These types of network cards are usually added to motherboards, laptops and other devices that are mainly focused on gaming in order to minimize latency and adjustments in the priority of traffic.
On May 21, 2020, it was officially announced that Intel had acquired Rivet Networks, which meant keeping the Killer controllers. It is precisely at this point that the Intel Killer product range was born, thus enhancing the network solutions that the company already offered. Now it had the ability to offer manufacturers high-quality and prestigious solutions in the market for network optimization with gaming in mind, among others.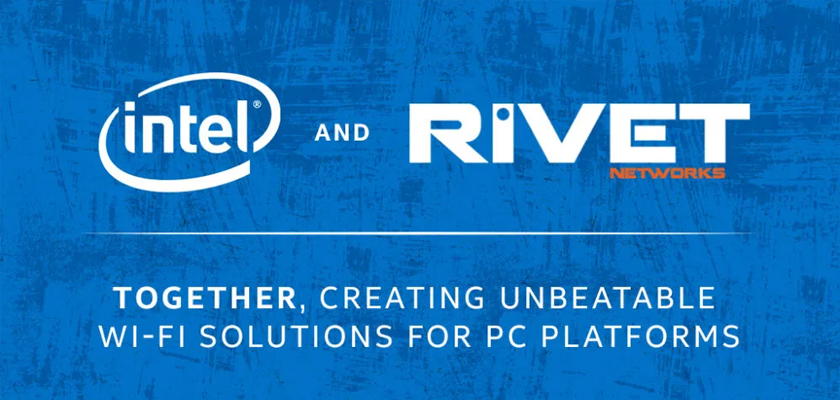 Technologies Supported by Intel Killer
WiFi 6/6E
Intel Killer drivers offer support for WiFi 6 connections and the enhancement of this WiFi 6E technology, which is so named because it expands the number of available frequencies. The WiFi 6 protocol establishes the 2.4GHz and 5GHz bandwidths, while in the WiFi 6E standard the 6GHz band is added to those already mentioned. The purpose of this is that we have more frequencies to connect to obtain a better experience, especially when we run applications that require high bandwidth, such as video games, streaming or video conferences, among others.
Ethernet 2.5G
To meet the needs of users, especially those who play and stream, the 2.5G Ethernet standard has been devised. This new standard allows speeds of up to 2.5Gbps, compared to the 1Gbps of the Gigabit Ethernet standard. One of the interesting aspects is that the 2.5G Ethernet standard can use the same cabling as the Gigabit Ethernet standard, which reduces costs while gaining performance.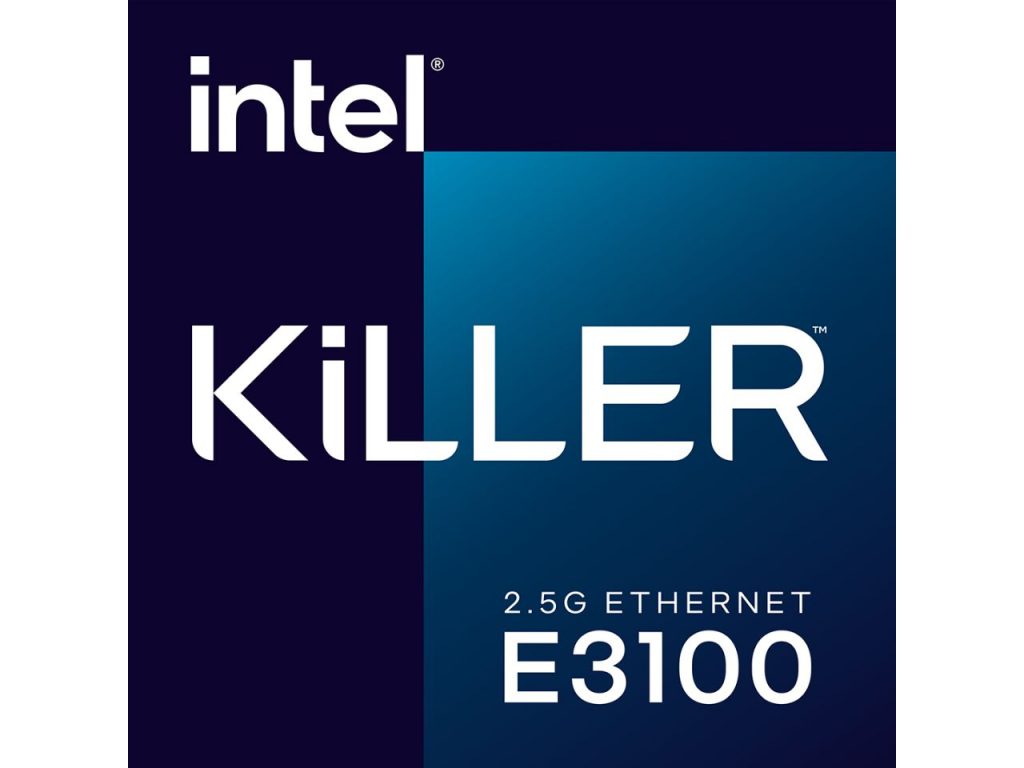 Intel Killer Features
Priorization Engine
What Intel Killer drivers offer us is advanced detection and prioritization of network data. It has an intelligent system that allows detecting and accelerating data traffic for certain websites or applications, whether for design or gaming. Through this system, what is guaranteed is to have a more pleasant online entertainment experience.
This engine integrated with the Intel Killer performs automatic management of communications bandwidth priorities, although it can also be configured manually. There are six levels of prioritization, allowing you to get the most out of it by detecting the additional network data that is built into the priority engine.
It has the priority engine of the Intel Killer with the possibility of automatically enabling GameFast which frees memory and CPU cycles when we run a game. It simply pauses non-critical processes so that all bandwidth is focused on the game for a smoother experience. This process can be automatic or we can customize the list of applications and decide when GameFast runs.
DoubleShot Pro
This item allows for improved communications performance when you have a chip for Intel Killer WiFi and Intel Killer Ethernet in one system. What this DoubleShot Pro mechanism does is indicate where the connection is made automatically. When an application requires high traffic, the connection will go through the network connection system that is faster, while applications that demand traffic are distributed over the slowest connection. 
For example, games that are highly sensitive to latency and voice traffic will always take priority and will stream over the fastest and most reliable connection.
Intelligence Engine
More and more users are working with laptops and need high-speed WiFi connections for their work. The problem is that the performance of a WiFi network is subjugated to a large number of external variables that can change quickly. What Intelligence Engine does is monitor and qualify the WiFi networks in the environment using artificial intelligence, automatically connecting us to the access point that offers the lowest latency and best performance.
This solution is designed to obtain the best internet connection in airports, hotels, homes and other sites. In the event that the location where we are, the Intel Killer network card through the Intelligence Engine will guarantee that we are connected to the access point with the best bandwidth. In case of having several access points, these will be evaluated and the Intel Killer network controller will connect us to the one that offers the best bandwidth.
Intelligence Center
This software has a large number of features designed so that gamers and content creators can make adjustments that guarantee the best possible connection. Intelligence Center offers us the ability to analyze, optimize and control the performance of our network from our computer.
The tool has a panel that gives us a large amount of information about the network use of our computer and what types of applications and websites are consuming our bandwidth. Although Intel Killer automatically connects us to the connections that offer the best bandwidth, we may also want to verify the quality of the nearby WiFi networks. Within this tool we can also configure it to jump to the closest access point of higher quality or to notify us if there is a nearby access point with better quality than the one we are connected to.
In addition, Intelligence Center allows us to make quick adjustments to the configuration, check options to improve system performance or the option to switch between entertainment, gaming or creator modes.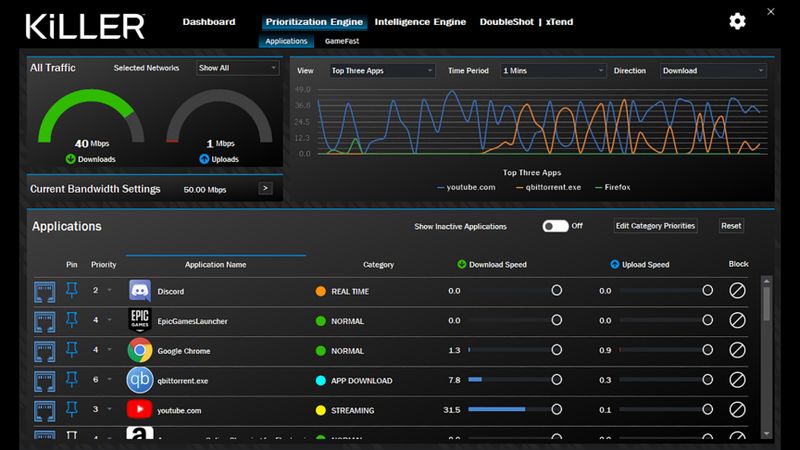 Are Intel Killer the best WiFi and network cards?
We can find a huge number of network cards on the market, both Ethernet and WiFi of excellent quality and features. Realtek is one of the leading network controller chip manufacturers on the market. In addition, there are many routers that integrate the Quality of Service (QoS) function that allows you to manage network connections and determine priorities.
What Intel Killer solutions provide is a more focused approach to gaming and directly from the system. These controllers are mainly focused on managing what applications are running and how much bandwidth they are consuming, assigning priorities. This in Realtek controllers is usually manual and not all of them offer so many management possibilities. While in routers the QoS has to be configured manually. Intel Killer controllers basically do the "plug & play" function, although they also offer the possibility of adjusting many different parameters.
Another interesting factor is that Intel Killer network cards are beginning to be integrated into many motherboards, as they offer Ethernet 2.5 connections, which greatly improves data transfer over Gigabit Ethernet. Intel Killer E3100 controllers are being integrated by ASUS, ASRock, Gigabyte and MSI in their gaming motherboards intended for Intel and AMD processors.