Server Placement
Do you have your own computers that you want to host in a data center?
Our data center managed by NOCPERU, has several fiber optic connections with a super-high bandwidth. Access to the data center is protected by security mechanisms, fire doors and additional staff that ensures and protects your investment.
We have several alternatives to host your equipment, from individual spaces to 1U servers or desktop servers. Use our server placement (hosting) calculator or contact us for an estimate tailored to your needs.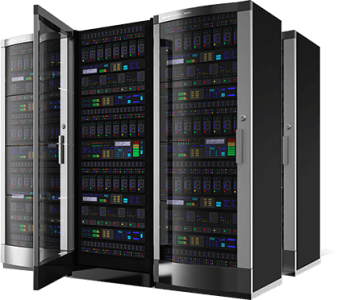 Remote Connection to Data Center

All of our dedicated servers are fully 100% managed and monitored 24/7/365. Don't be fooled by other companies offering lower-priced servers only to be surprised by "unmanaged servers" and that they are on their own without support in the event of a disaster! Managed dedicated servers means we'll take care of your fully customizable server setup, troubleshooting, and everything else.
Each server is configured to ensure that your team is ready to launch any type of website.
Additional services
DDOS Protection:
DDOS Protection is an integrated services module for Cisco routers that delivers a powerful and extensive solution for dedicated servers defending against massive distributed denial of service (DDOS) attacks.
Today's DDOS attacks are more destructive and focused. These attacks can easily bypass and overwhelm the most common defenses. Composed of requests that appear legitimate, massive numbers of "zombie" sources, and spoofed identities that make it virtually impossible to identify and block these malicious flows, DDOS attacks paralyze dedicated servers and prevent them from conducting business by giving resulting in lost customers and transactions along with possibly damaged online reputations.

OFF Server Backups: Our offsite backup solution is a secure, highly customizable online data storage, access, backup, restore, and data sharing solution for customers and businesses with various possible interfaces and backup options retrieving, and manipulates your data over the network. Our server backup supports online connectivity is valid for most operating systems including Windows, Linux, Mac and Unix. Our data center provides you with a secure location to store your most important data where you can access it anywhere, anytime, using any operating system that is at the core of our server backup strategies!
Tailor-made services and solutions: We want to listen to you and know what you need, our engineers and representatives will be happy to assist you quickly and willing to listen to all your needs, give you a tailored alternative and above all with the profiles that your company is looking for.