Currently there are many softwares capable of encrypting and decrypting both files and folders, however, it is difficult to find software as fast and intuitive to use as AxCrypt, a program for Windows and macOS operating systems, which is also compatible with mobile devices with Android and iOS. This great compatibility will allow us to have our files and folders always with us and in a fully encrypted way. Today in RedesZone we are going to teach you everything you need to know about the AxCrypt program to protect all your data.
Main features of AxCrypt
Before we start talking about AxCrypt, we must point out that this project was born many years ago with the first version of the program, and at that time it was completely free. The last version of this first version was AxCrypt 1.7 and it was compatible with Windows Vista, however, it is very likely that it will also work on the latest Microsoft operating systems. Our recommendation is that, if you are going to use AxCrypt, use version 2.X as it incorporates all the improvements in security, performance and compatibility with different operating systems.
The AxCrypt 1.X version doesn't currently have any support, so you should not use it unless you want to decrypt data that you already have encrypted with this program. Of course, AxCrypt version 2.X allows decrypting files encrypted with version 1.X, that is, it is backwards compatible, but we will not be able to encrypt data in version 1.X with version 2.X.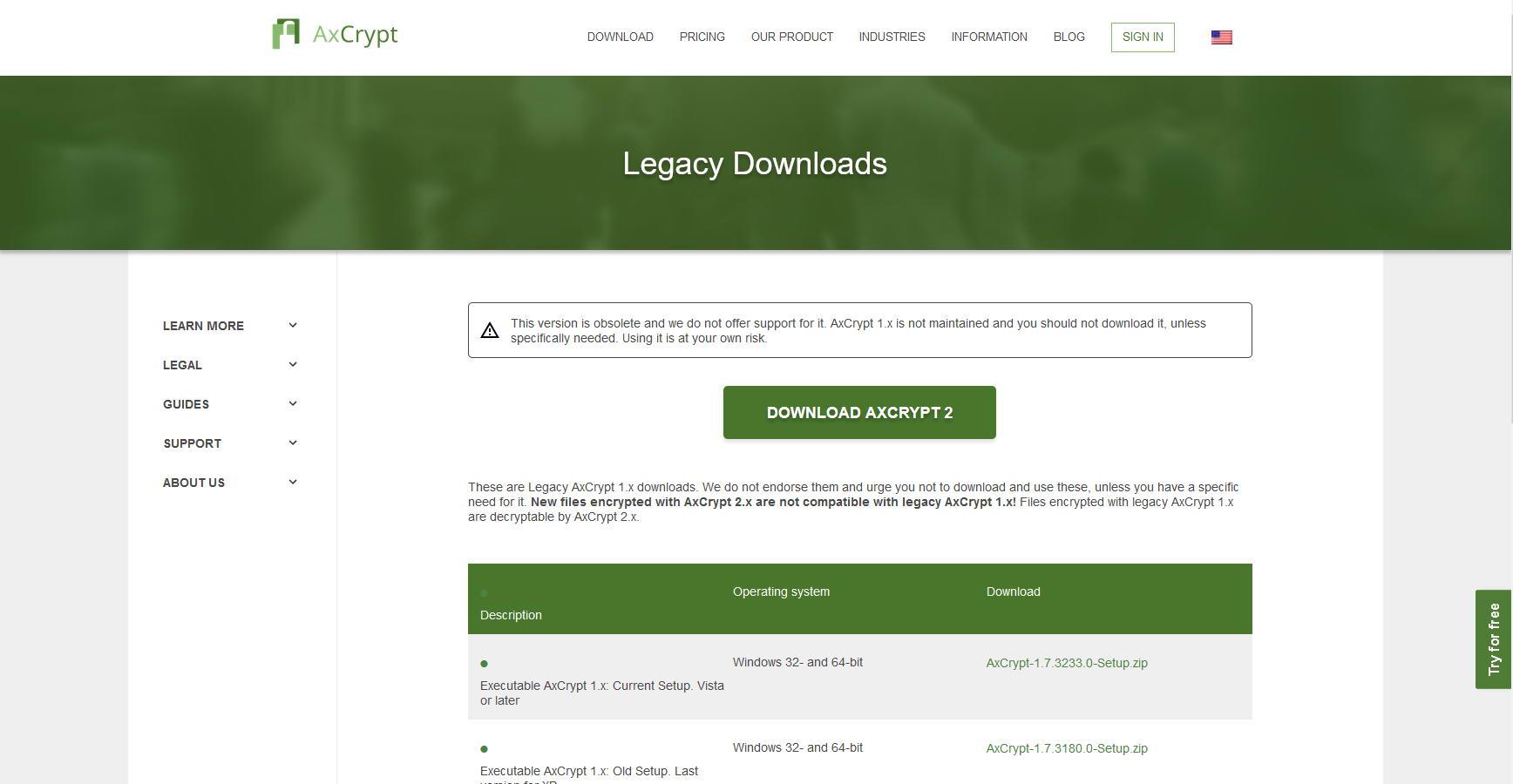 In the main menu of this program we can see its main characteristics that we will detail:
It allows you to encrypt files and folders quickly and easily.

We can encrypt files and folders with 128-bit AES and 256-bit AES.

There is no limit when it comes to encrypting files and folders.

It is integrated into the Windows context menu by double clicking from the operator, to greatly facilitate the encryption and decryption of data.

We can share the files and folders with any contact that we want, sharing our own decryption key for the files.

Multi language, it is available in Spanish and also other languages.
Thanks to this program we can put the files and folders in the public cloud of Dropbox and Google Drive, being fully encrypted to prevent anyone from reading the information. Furthermore, it also incorporates a password manager that, logically, will be encrypted with a master key. Finally, thanks to the compatibility with Android and iOS smartphones, we can carry files and folders with us to encrypt and decrypt them at all times.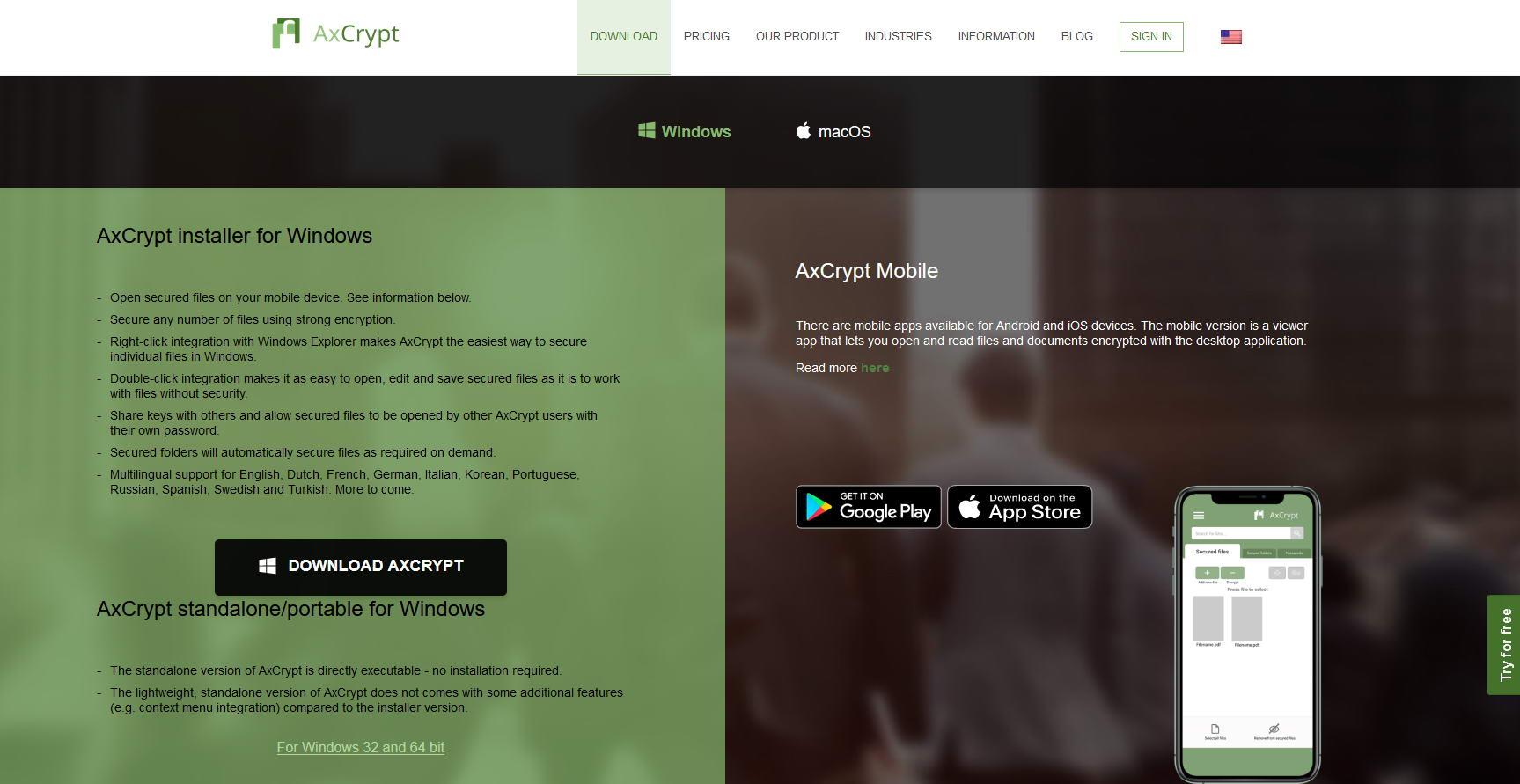 We must bear in mind that this software is a paid program, we will have a "Premium" subscription for users, and another "Business" version for companies. However, we have a completely free version for 30 days for new users, thanks to this, we will be able to try the software completely free of charge, although we will not have all the program's functionalities available, only the most basic ones such as file encryption and decryption. .
In the case of exhausting the 30 days, we can continue using the program in its "Free" version, which has many limitations, such as AES-128-bit encryption, file encryption and decryption, backup of the account key, and open shared keys.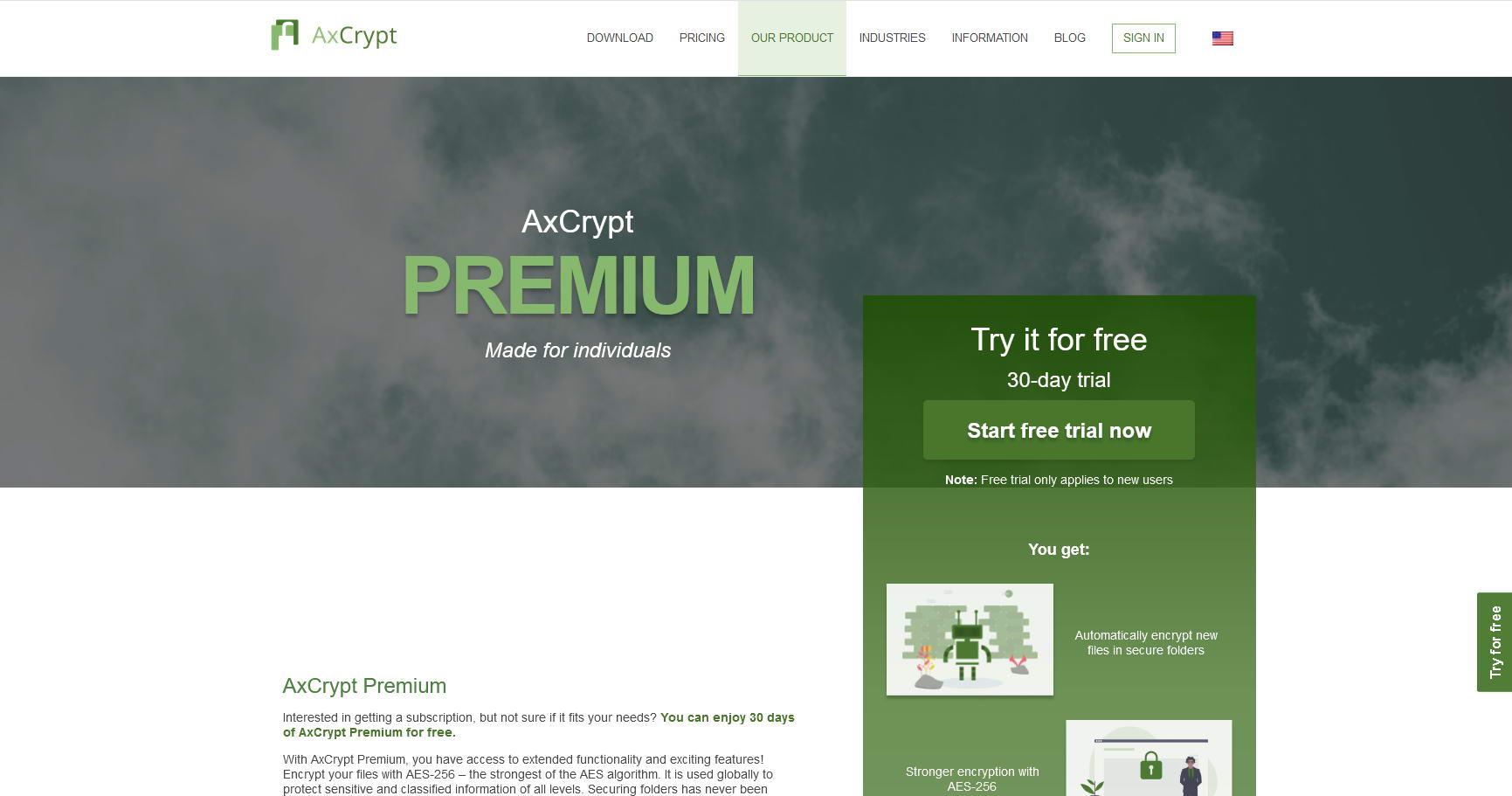 Once we have seen the main features of this AxCrypt program, we are going to see how we register on the web and install the program.
Registration on the web and installation of the program
It is absolutely necessary to register on the official website of this program to later log in to it. In order to register, we will have to go to the "My AxCrypt ID" menu and click on "Sign Up", once we are in the registration menu, we will choose between "Private" or "Business", in our case we have chosen "Private". We will put the registration email and they will send us a confirmation email, later we can put the access password that we want, this ID and password we will have to remember because we will have to enter the credentials in the program.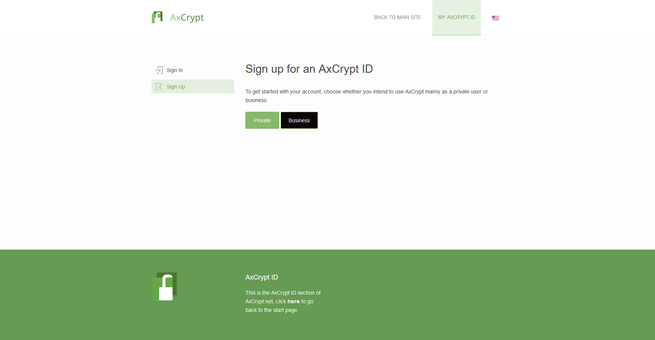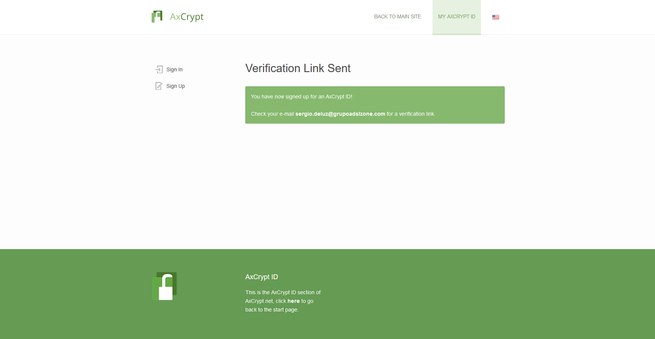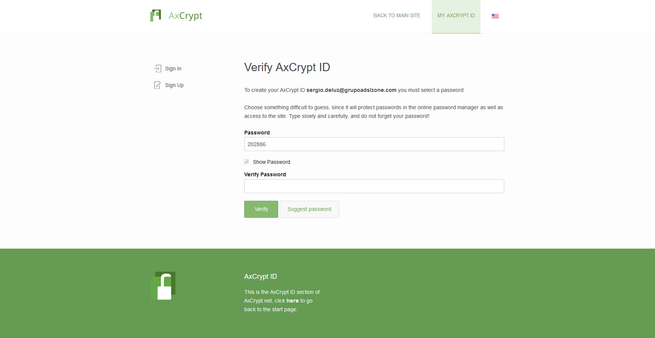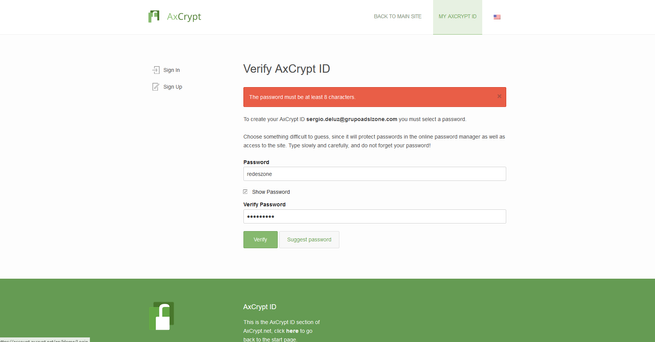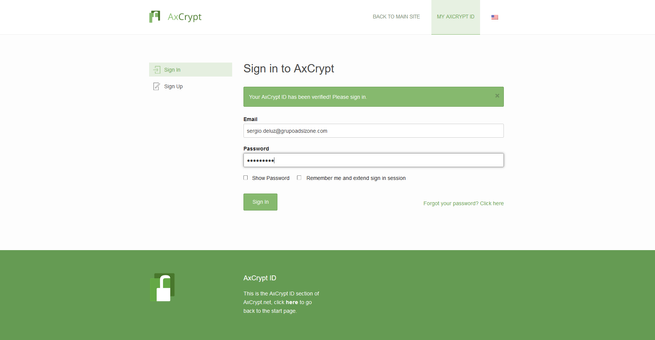 As soon as we log in, the web invites us to buy the Premium or Business subscription of this program, with AES-256 encryption features, the ability to share keys, protect folders and more.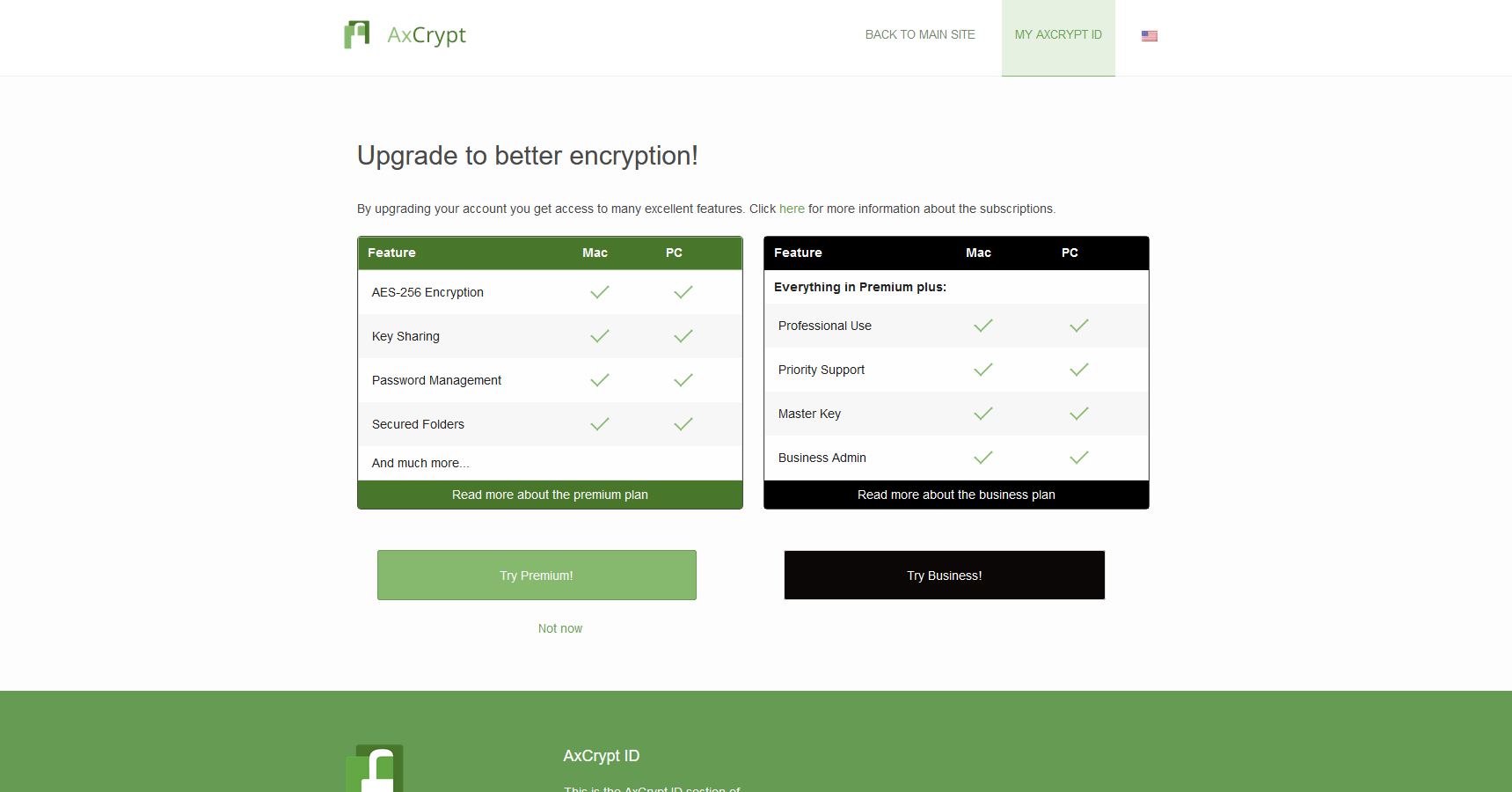 This program is priced at €4.60 per month or €3.63 per month if you buy a one-year subscription. However, we will have the possibility to buy the Premium subscription and have a month completely free.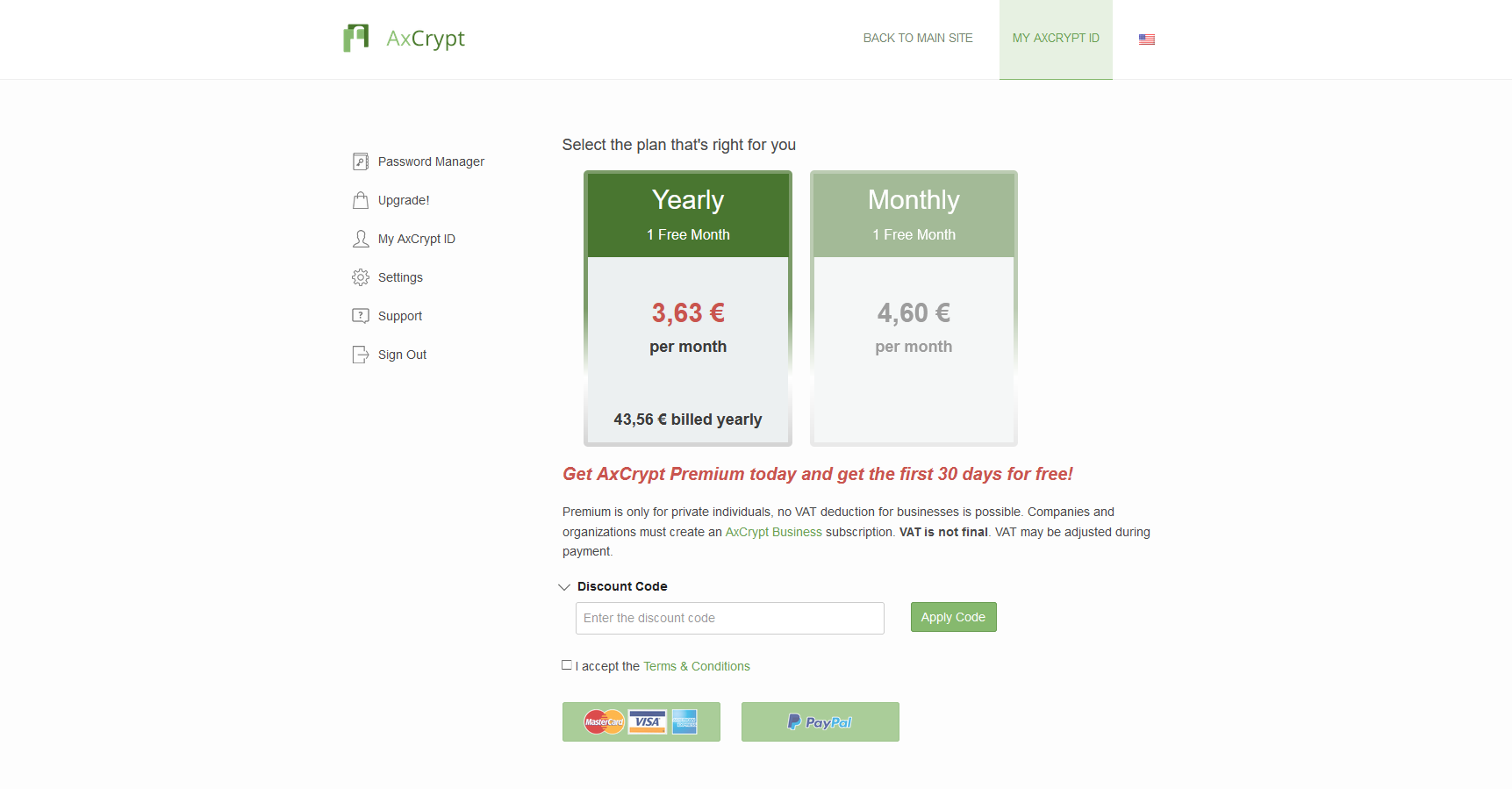 Once we have successfully registered, we download the software to proceed with the installation in our Windows 10 operating system. All we have to do is double click on the executable, click on "I agree with the terms and conditions of the license", and click on "Install". Then we wait a few seconds and we will have the program installed. Once installed we can click on «Launch» or «Close».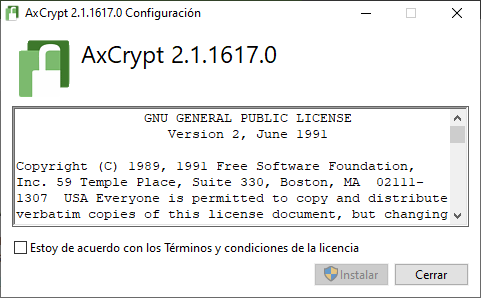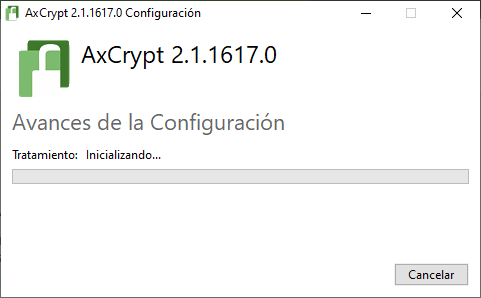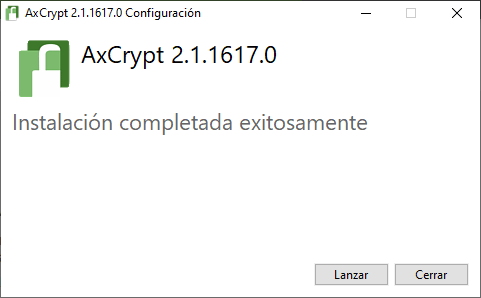 Once we have installed it, we can start encrypting and decrypting files. We also have a "Portable" version for Windows on the official website, this will allow us to use the program without having to install it on our computer, just by double clicking we will execute it and we will have all the available options at our disposal, but of course we will not have the ability to encrypt and decrypt files and folders from the context menu.
How to encrypt and decrypt files
The operation of this program is really simple, the first thing we must do is enter the email and password with which we have previously registered on the official website, we will have to use the AxCrypt ID created. We must also choose the language we want to use, we have chosen Spanish.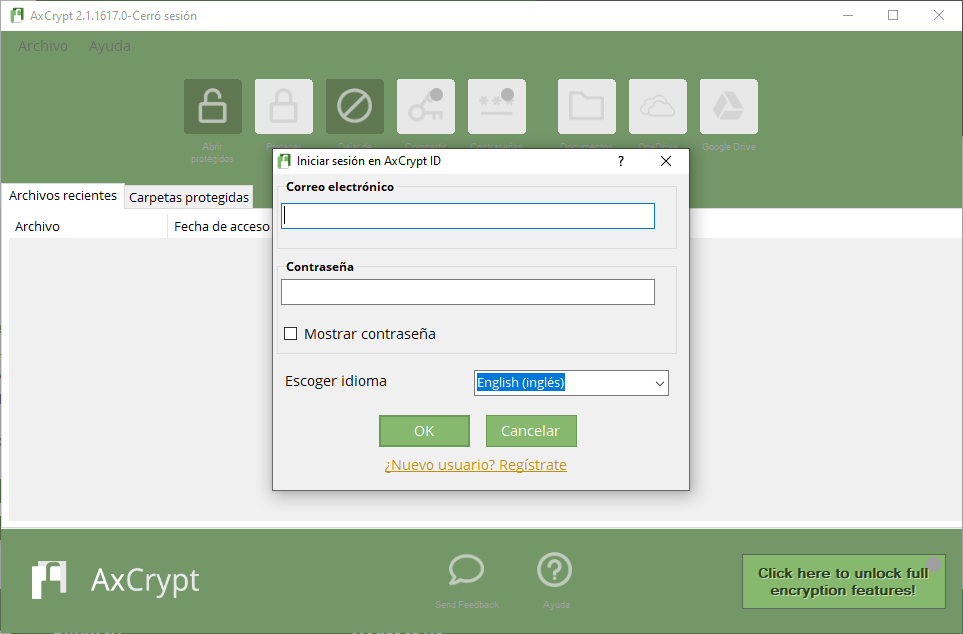 The first time we register, it will tell us that we do not have a paid subscription, therefore, we can start a 30-day free trial, and that when it ends, we can continue using this program in its Free version, as we have explained to you previously. We click on "Start" to start using the program to encrypt and decrypt files.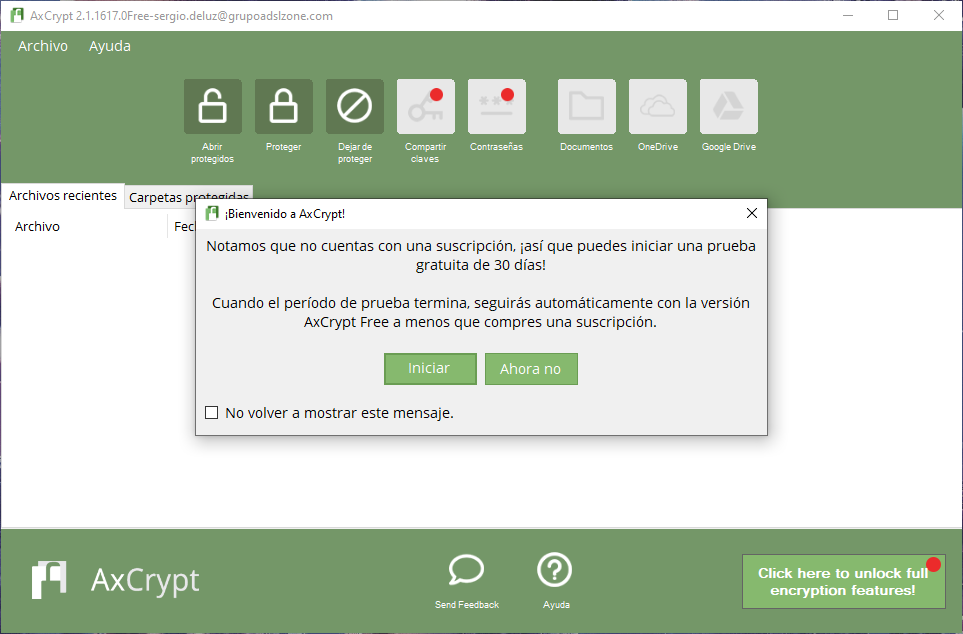 If we click on "Protect" we can select any file that we want, in this case, the "Free" version does not allow encryption of folders, but the process would be exactly the same. Once we click on protect, we go to any file and it will encrypt it by putting the extension "axx", as you can see here: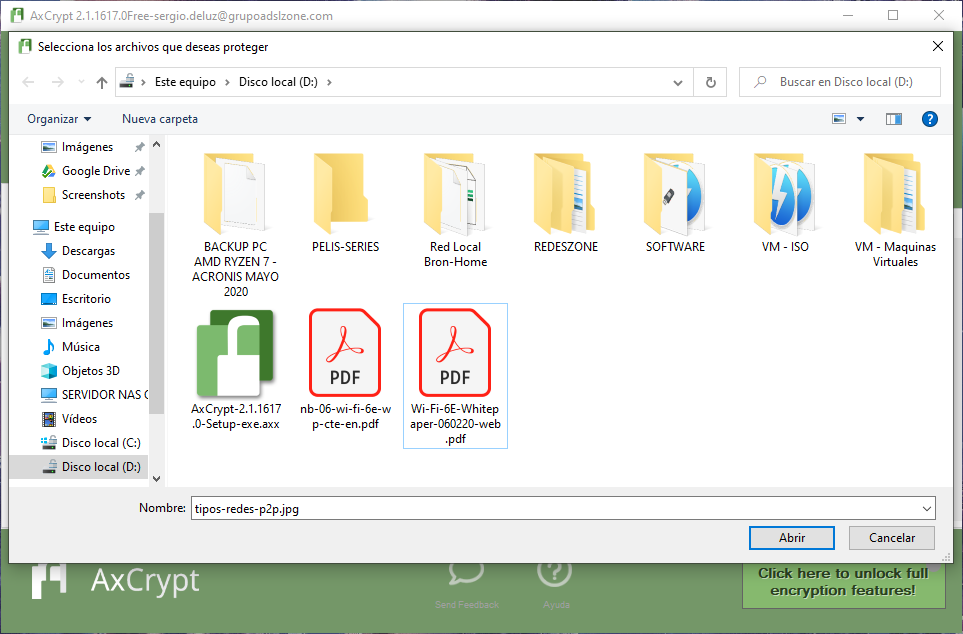 When we have encrypted it, it will appear in the list of recent files. If we want to decrypt this file, we will have two options, either click on "Open Protected" or simply double-click on the file from Windows Explorer. If we do the latter, the program will tell us that it is performing the decryption without asking for the password again, because we have logged in with the AxCrypt ID.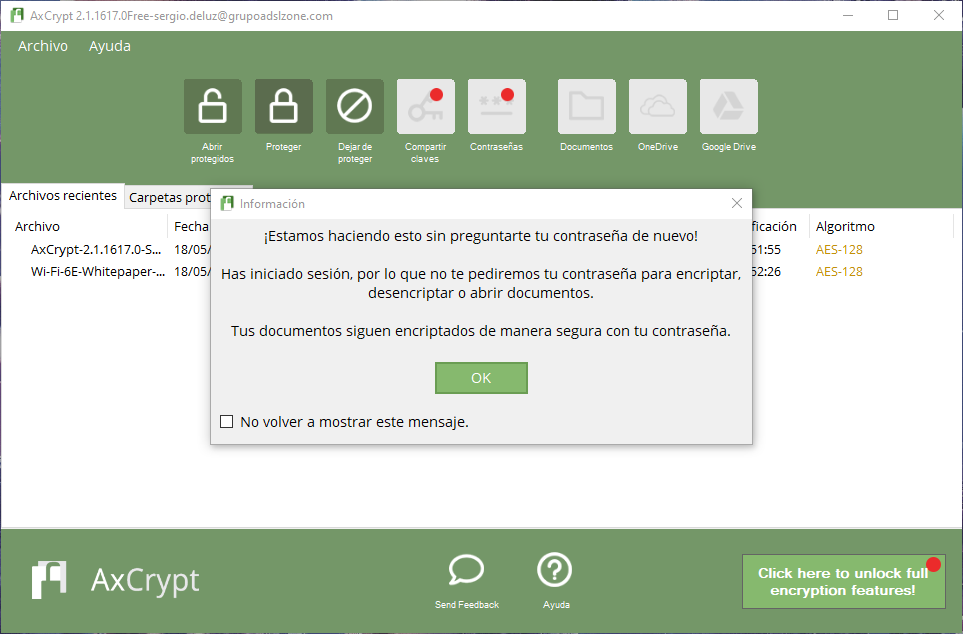 If we right-click on the encrypted files in «Recent files» we will have several options available:
Open the file.

Remove it from the list, but keep it encrypted.

Decrypt it and remove it from the list.

Share keys.

Show in Folder.

Rename to original.

Delete recent files.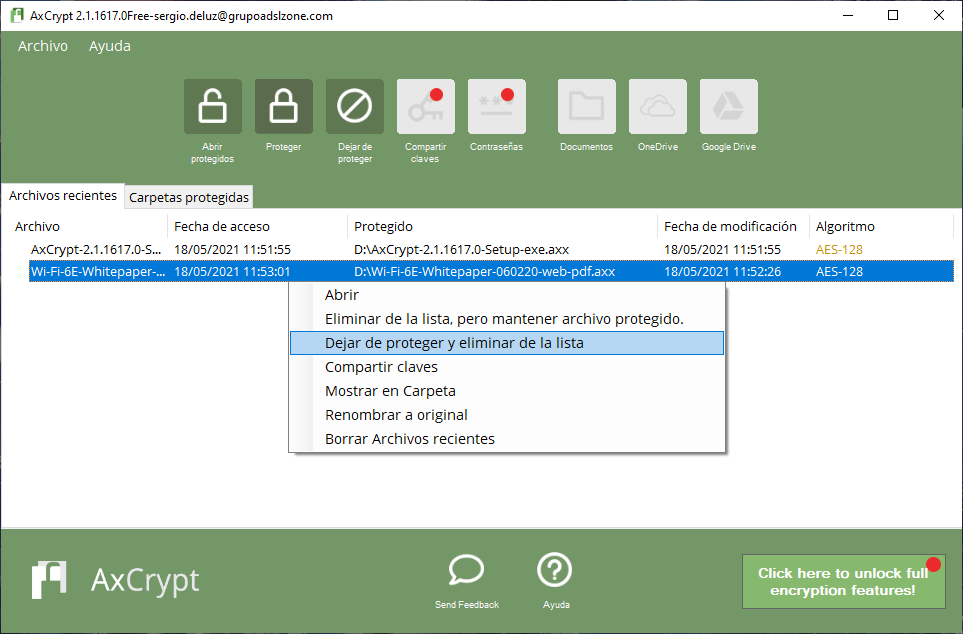 When we have encrypted files, we can see all the files with an AXX extension, but if we double-click we can open them easily and quickly.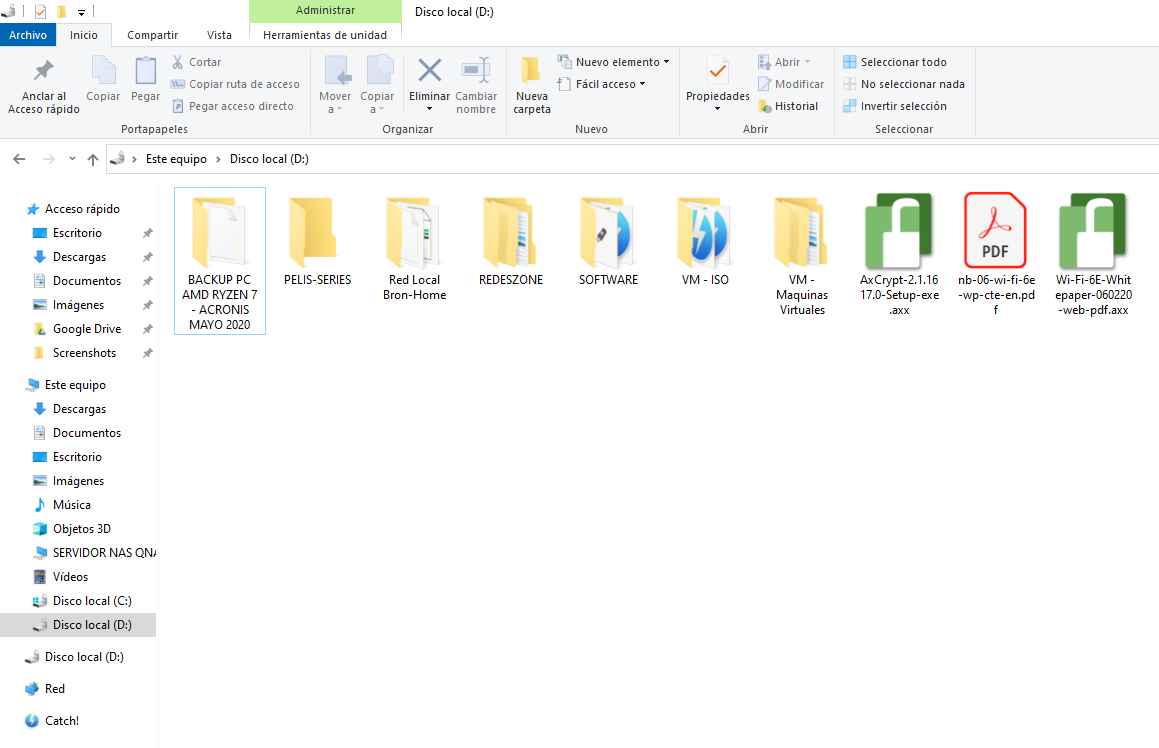 If we click on «File» we will be able to access different configuration options, specifically we will be able to:
Open protected.

To protect.

Stop protecting.

Protected files.

Rename anonymous.

Rename to original.

Add protected folder.

Safe disposal.

Invite a friend.

Additional options.

Sign off.

Leave
All the options that appear with a red circle are not available in the free version, we would have to buy the Premium version of the tool.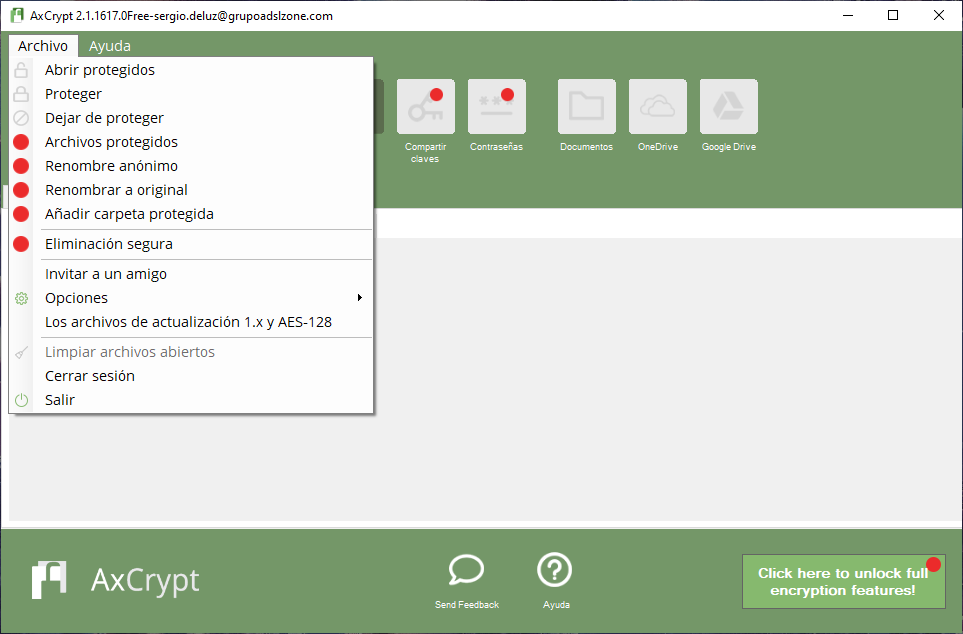 In the "Options" section we can see all this:
Idiom.

Change Password.

Upgrade files encrypted with AxCrypt 1.X to version 2.X.

Always offline and force to enter credentials.

Include subfolders for encryption and decryption of information.

Hide recent files.

Automatic logout due to inactivity.

Debug.

Clear all settings and restore the program.

Key management (passwords).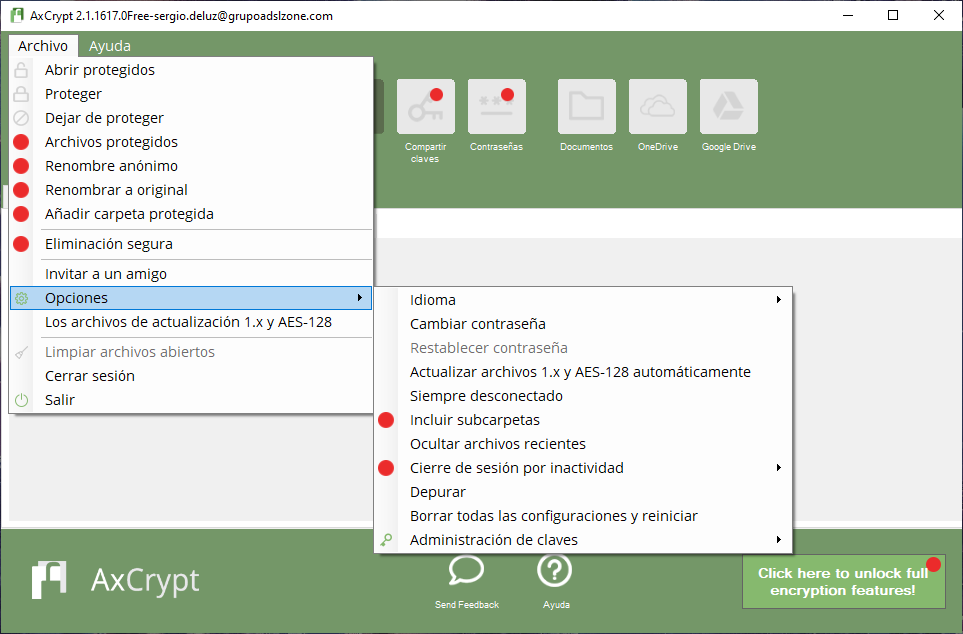 If we go to the "Key Management" section we can import someone's shared public key, export my public key to share it with other users, and we can even export the AxCrypt ID and the shared key pair.

As you have seen, this program is very easy to use to encrypt and decrypt files in its free version, if you need to encrypt or decrypt folders and subfolders, you will have to buy the Premium or Business version. If you want a multiplatform program (except for smartphones) to encrypt and decrypt files and folders, our recommendation is to use VeraCrypt.